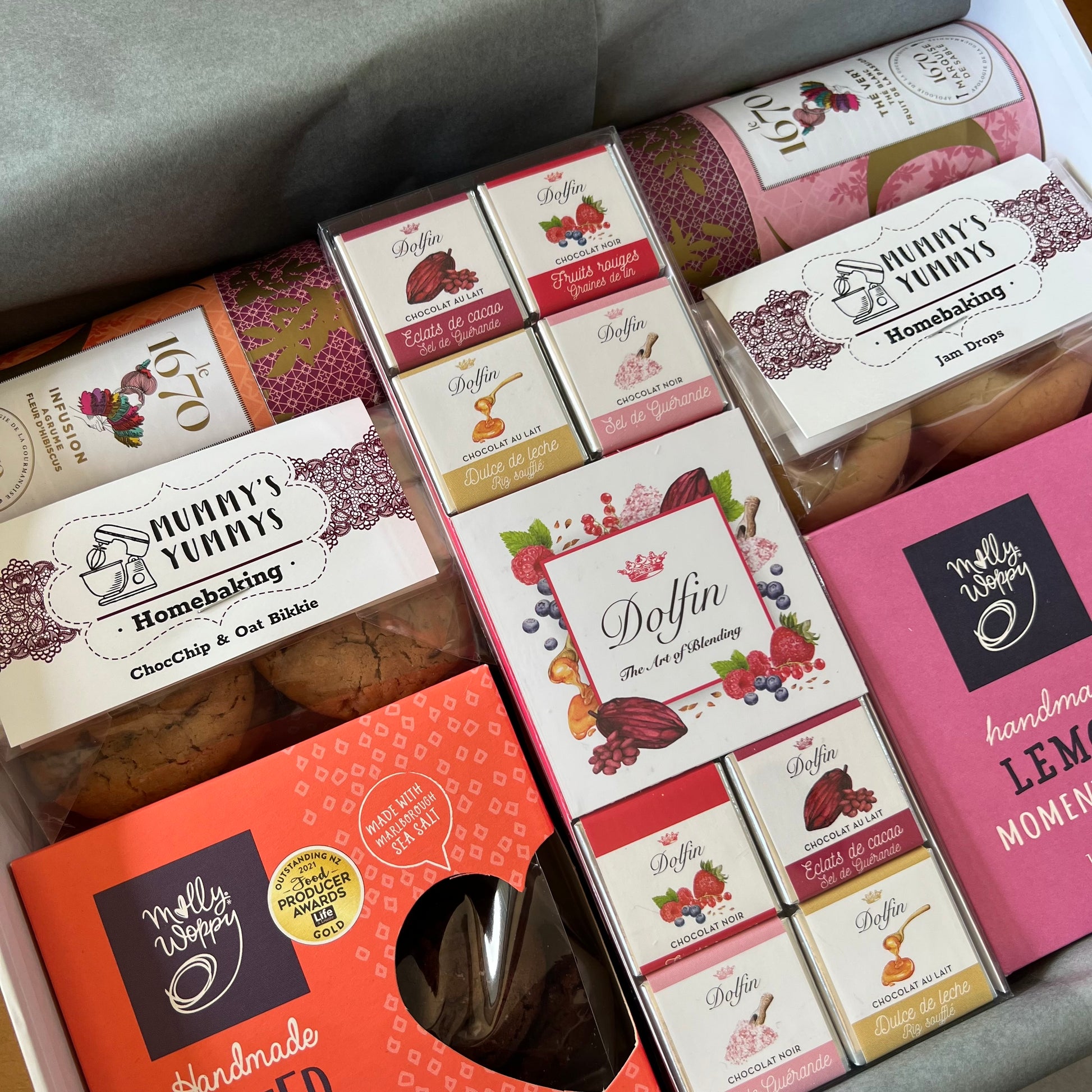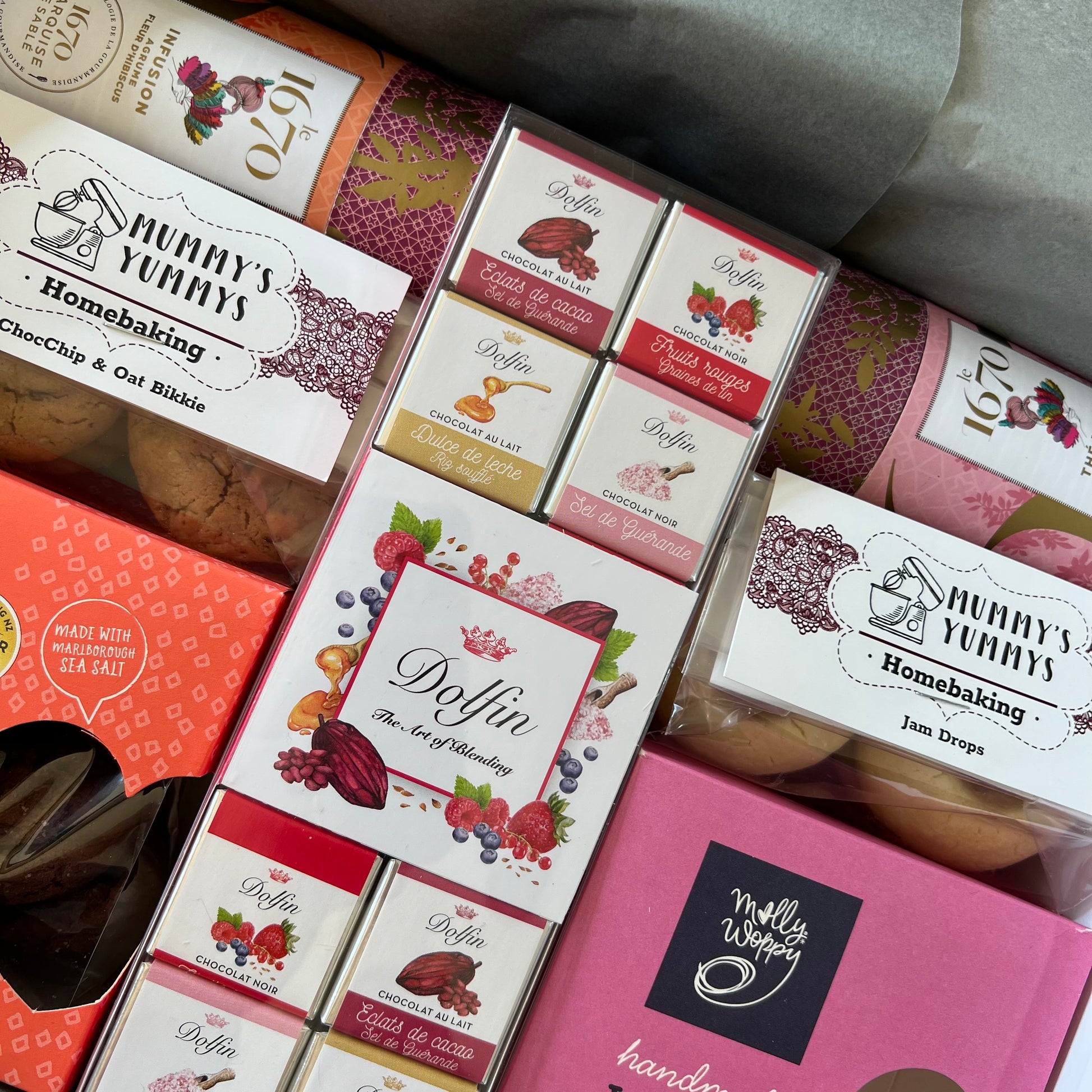 Sale price
$175.00
Regular price
Tax included.
Product description
Shipping
Product reviews
Any time is Tea time!

In our Tea Time Gift Hamper you will find -
 
     Cardboard Gift Box with Magnetic Flap - Large
     Dolfin Belgian Chocolate 24 piece 108g
     RSVP Tea Caddy Scoop/spoon
     Manuka Royale Duo Premium Honey Creamed / Truffle 21g
     Rogers Honey Dipper 16cm
     La Sablesienne Tea 50g 
     La Sablesienne Herbal Tea 50g
     Molly Woppy Cookies Box 130g 
     Molly Woppy Cookie Box 125g
     Mummy's Yummys Handmade Biscuits x 4
     Mummy's Yummys Handmade Slice x 6
     Faux Flower Bloom

Since 1989, Dolfin Chocolates philosophy has been to mix high-quality natural ingredients directly into the chocolate mass. Fruits, spices, flowers and great confectionery classics are subtly and harmoniously incorporated into the best traditional chocolate. This individually wrapped 24 piece selection is a a delightful assortment for the chocolate connoisseur.

Rogers Homewares is a New Zealand-owned and operated wholesaler and distributor of quality homewares who take an environmental approach to business to ensure that; whilst they grow their impact on the environment does not. Made in Germany this fine grain olive wood Honey Dipper has a round handle and is approx. 16cm long.  Their Tea Scoop/Spoon is made of durable 18-8 stainless steel for long-lasting use.  The bowl of the spoon features a beautiful design indented into the spoon for added style to any tea set and is perfect to compliment your tea by adding sugar or honey using this wide oval-shaped scoop with a curved handle.
Get a taste of the sweet original and the gourmet delight manuka honey from Manuka Royale. Creamed Manuka Honey and Truffle Manuka Honey support all lifestyles and dietary restrictions with a high bioavailability of nutrients. Sustainable and ethical sourcing makes this New Zealand Made honey taste even better.  Manuka Royale are an award winning honey with premium quality Manuka honey minimally processed to retain the naturally high bio-availability of the nutrients. For every sold jar of honey $1 is donated to Child Cancer Foundation.

Le 1670 Marquise de Sable are delightful tea blends imported from France and make a perfect, elegant gift for the tea lover.  Settle down for a truly sophisticated tea break of herbal or black tea.  A citrus infusion apple pieces, rosehip peels, orange peel, hibiscus flowers, raspberry leaves, eucalyptus leaves, citronelle and natural flavouring or enjoy the flavorsome addition of bergamot and vanilla and a sprinkling of cornflower petals for a light after note. 
Molly Woppy is a family owned artisan food company, passionate about baking. Since 2002 they have used classic recipes with fresh modern flavours, to create cookies that you'll crave.

Mummy's Yummys was born in 2009 and continue today using old-fashioned staple ingredients, making every batch and every product individually handmade.  Sit down, relax and enjoy their homemade cookies with your next cuppa.

For over 35 years Flower Systems has been importing artificial, flowers, foliage, decor and more to enhance interiors throughout New Zealand.  Their faux flower blooms are a delight and sure to bring long lasting joy.

Comes complete in a luxury cardboard gift box, sturdy enough to be reused, sealed with our handmade wax seal, finished hand tied with beautiful ribbon and carefully packaged in a cardboard outer for freight.

Includes a message Gift Card - hand written with your personal message
Props in photos not included
Gf - Gluten Free
Df - Dairy Free

Free Delivery NZ Wide!*
Auckland - Free Freight.
Auckland Hospital Delivery - Free Freight.
Auckland Urgent same day Delivery is available to most areas with an additional charge. Please contact us.
North Island - Free Freight.
Waiheke Island - Free Freight.
South Island - Free Freight.
Rural delivery at no extra charge.
Pick up where applicable and excluding liquor items as per our current Liquor License, is by Arrangement only weekdays between 9am - 3pm.
Gift Types
Packaging - all Hampers and Gifts are wrapped securely and carefully packaged in a strong cardboard outer for freight. Where possible for packaging we use wood-wool as it is natural, compostable and biodegradable.
Finishing Touches - so many of our Gift Hampers and Gifts are hand tied with our gorgeous striped grosgrain ribbons. We love the touch and feel of real, soft texture so no poly-prop plastic found here!  Our handmade wax seals are included as a finishing touch and every Gift Hamper is unique due to the handmade nature of each item.
Refrigerated Products - cold products are packaged in Chill-tainers with re-usable gel ice packs.  Please note, we cannot dispatch or cold or fresh products or flowers to Rural delivery addresses.
Substitutions - in the event that a product is unavailable we reserve the right to substitute a product of the same or higher value, and as close to your original item as possible. We pride ourselves on supporting small and local artisan businesses and love including their goods in our Gift Hampers.  As a result, items can become unavailable on occasion and without a lot of notice.  We will not substitute an item unless the quality and aesthetic meet our extremely high design standards.  Props may have been used in some photographs, unless listed it is not included in the Gift Hamper. 
Delivery Information
Courier Providers - we use New Zealand Couriers.  For our same day service we use Speedy Couriers.
Standard Cut Off Times - same day Auckland is 10am. North Island and South Island courier is 1pm.
Despatch - days are Monday - Friday as couriers do not pick up at weekends. No pickup or delivery on NZ Public Holidays. We do not deliver to private bags or post office boxes.
Apartments - couriers regularly have trouble delivering to apartments during the day. Consider a work address as the preferred option.
Hospital Deliveries - please check with the Hospital to confirm the patient hasn't been discharged. Please provide a Ward Number and ensure the correct name is used.
If No-one Is Available To Receive Your Parcel it will be left in a safe place, unless you specify that you want it signed for. The courier will not leave it if he feels it is not safe. A card will be left with instructions to ring so the recipient can arrange a suitable delivery time.
Re-Direction Fee may be charged if the address details given to us are incorrect. You are responsible for giving us the correct delivery address.

Weekends And Public Holidays
Weekend Orders - orders received over the weekend will be processed the following Monday morning.  Orders received on Fridays for fresh or cold products will be dispatched on Monday, unless Saturday delivery is applicable.
Saturday Delivery is available for large towns only. We cannot guarantee that it will be delivered on the Saturday if requested, as we have no control over the Couriers who work those areas. Check the New Zealand Courier website for more information.
Sunday and Public Holidays - there are no deliveries on Sundays or Public Holidays.  Orders for fresh or cold products placed over a Long Weekend will be dispatched the next available Business Day.
Order in Advance - if you specify a certain date for delivery we attach a sticker on the outer carton requesting the recipient "No peeking until the............". This enables us to make sure your Gift Hamper gets there on or just before the specified date, to avoid disappointment.
Bulk Consignment - may be available for corporate orders. Please contact us.

Delivery Times
We can't tell you exactly when a gift will be delivered - we can only give you an approximate timeframe.
Auckland Delivery - 1-2 working days.
Auckland Same Day Urgent Delivery available - North Shore, Albany and Auckland Central. We may be able to deliver same day to the rest of Auckland as far south as Manukau for an additional charge. Please contact us.
North Island Delivery - North Island Delivery takes between 1 - 3 working days.
South Island Delivery - Allow 2 - 3 working days for deliveries to the South Island.
Waiheke Island Delivery - Allow 2 - 3 working days for deliveries to Waiheke Island.
Rural Delivery/Remote (RD) Addresses - incur no extra charge but can take an additional 1-3 working days depending on the Couriers schedule.