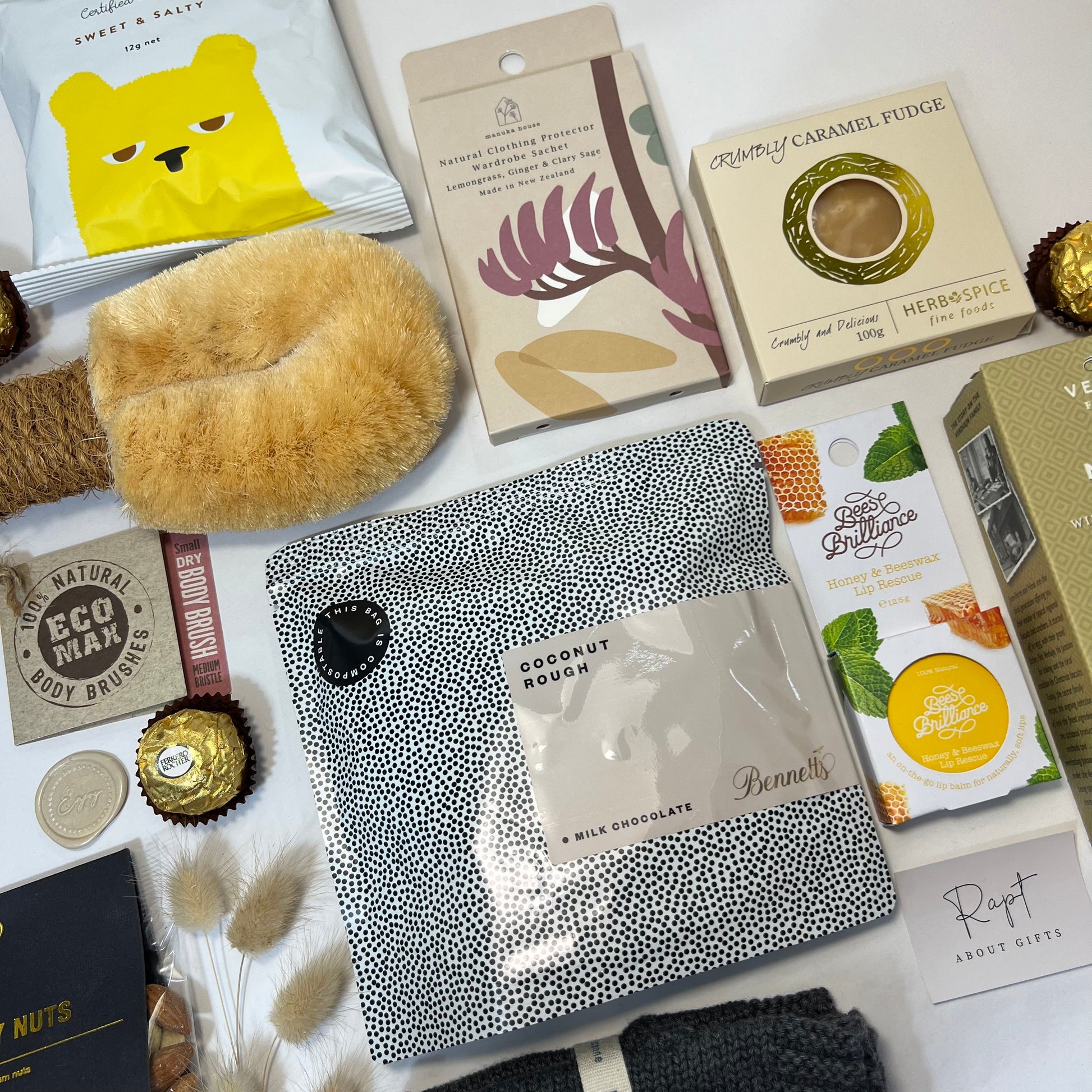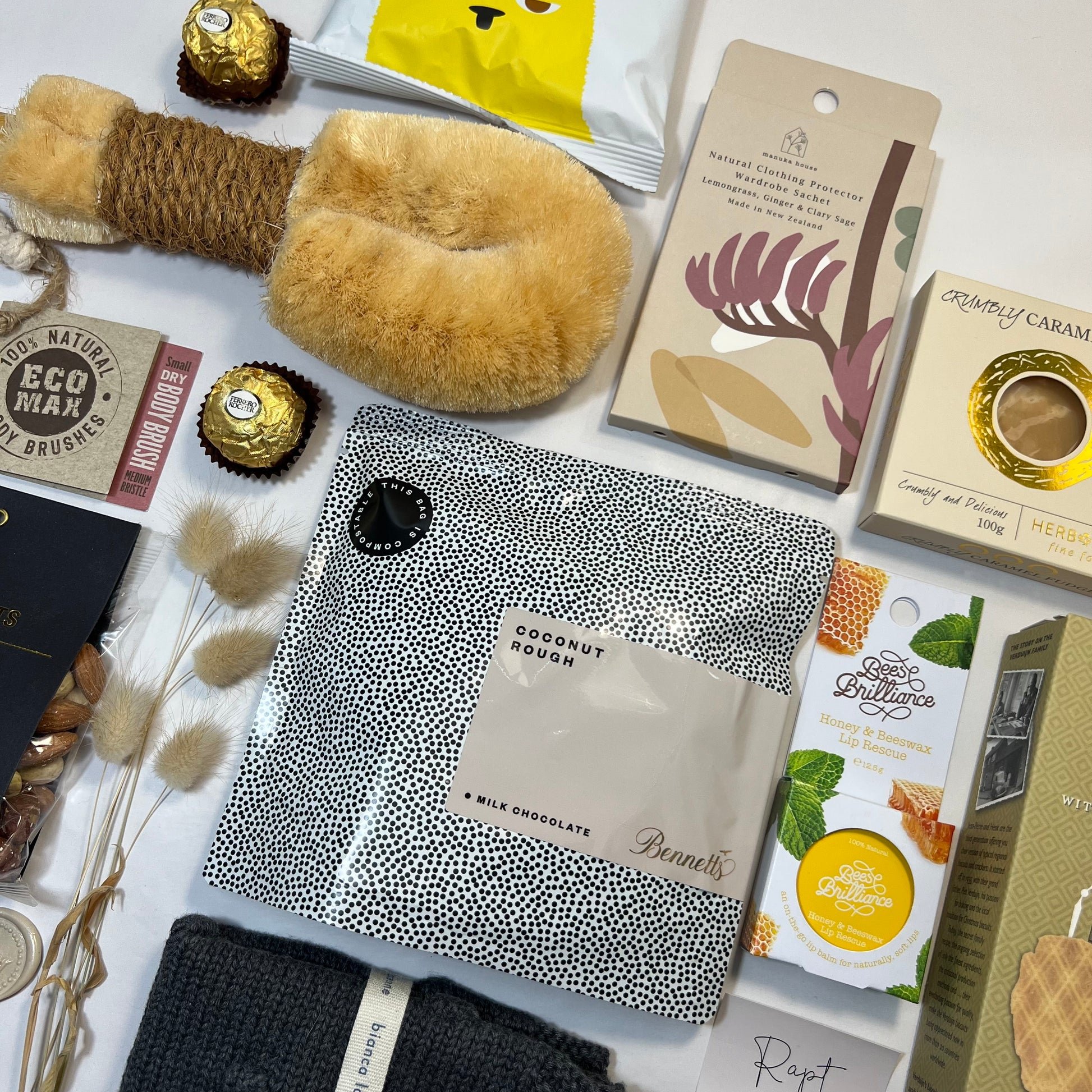 Sale price
$169.00
Regular price
Tax included.
Product description
Shipping
Product reviews
Pamper: indulge with every attention, comfort and kindness; spoil, 
Spoil a loved one with luxurious pampering and treats to show how much you care.
In our Perfect Pampering Gift Hamper you will find -
     Cardboard Gift Box with Magnetic Flap - Large
     Bennett's Chocolate Slab Coconut Rough 140g 
     H & S Fudge 100g
     H & S Nut Mix 100g, Gf
     Verduinjs Butter Biscuits 75g
     Bianca Lorenne Washers Set 3 
     Bees Brilliance Super Fruity Lip Rescue 12.5g 
     Manuka House Wardrobe Sachet
     Eco Max Dry Body Brush - Medium Sisal
     Serious Popcorn Snack 12g Gf, V
     Ferrero Rocher 37.5g

Bennett's of Mangawhai Chocolates is family owned and run, brought into the world by trained chocolatiers Clayton and Mary Bennett in 1998.  Just as it always was, Bennett's is made in Mangawhai Village, New Zealand; close to where Clayton spent his childhood and where the company has become an intrinsic part of the local community.  Their Coconut Rough Chocolate Slab is sustainably grown cocoa, ethically sourced and palm oil free.

Herb & Spice Mill Fine Foods are a specialty fine food importer and wholesaler, supplying independent retailers throughout New Zealand and Australia. Their Crumbly Caramel Fudge is sweet and crumbly all in one bite.  Made in NZ with all natrual ingredients, it's best eaten straight out of the bag or as a lively kick to ice cream as a crumbly topping.  Their Luxury Nut Mix is an indulgent selection of raw premium nuts.

The Verduijn Fine Biscuits secret family recipe is third generation after starting in 1935. Using only the finest ingredients, the artisanal production methods and their everlasting passion for quality make the Verduijn biscuits appreciated in more than 20 countries worldwide.  The Mustard Wafers with a touch of honey are golden baked thin wafers with real, freshly grated aged Gouda cheese infused with a well balanced honey and mustard dressing. 

Established in 2005 to fulfil a passion, Bianca Lorenne went about creating gorgeous bed linen and all things beautiful. Named after their daughters, Bianca and Lauren, this family owned business started from their home to now distributing through beautiful boutique independent stores and interior designers throughout Australasia. Their Knitted cloths made from 100% soft cotton are a perfect face cloth, wash cloth or for babies. Each measures approx. 28cm x 28cm.

Our friends at Bees Brilliance are a family owned company that cares about you and your family, and are driven to design and create effective natural skincare products that help and nurture people to become beacons of brilliance. The Lip Rescue by Bees Brilliance is an on the go moisturizing lip balm to help protect your lips during your outdoor adventures and is made in NZ and 100% natural.   
Manuka House products are natural and made right here in New Zealand. Add this delightful sachet to wardrobes, draws and storage boxes to naturally repel insects and keep your natural fibers smelling lovely.

Eco Max brushes are ethically handmade in Sri Lanka, complying to the 10 Fair Trade principles, are vegan, and biodegradable.  The Sisal Dry Body Brush is designed for generous dry brushing before a bath, sauna, or shower. Dry brushing is a skin care technique designed to remove dead skin cells, stimulate circulation, help eliminate body toxins and reduce the appearance of cellulite.

Snacking has had a bad rap, but the Serious Food Co are here to change all that. Let's be honest, sugar, the world's oldest spice is a dirty word these days but it's still our friend if unrefined and used in moderation. Organic unrefined cane sugar from India forms the perfect marriage with organic sea salt from Marlborough, New Zealand in this serious popcorn snack.
Ferrero Rocher is irresisible layers of texture and flavour, a chocolate, wafer and hazelnut confectionery produced in Italy in 1982.  
Comes complete in a luxury cardboard gift box, sturdy enough to be reused, sealed with our handmade wax seal, finished hand tied with beautiful ribbon and carefully packaged in a cardboard outer for freight.
Includes a message Gift Card - hand written with your personal message
Props in photos not included
Gf - Gluten Free
Df - Dairy Free
V - Vegan

Free Delivery NZ Wide!*
Auckland - Free Freight.
Auckland Hospital Delivery - Free Freight.
Auckland Urgent same day Delivery is available to most areas with an additional charge. Please contact us.
North Island - Free Freight.
Waiheke Island - Free Freight.
South Island - Free Freight.
Rural delivery at no extra charge.
Pick up where applicable and excluding liquor items as per our current Liquor License, is by Arrangement only weekdays between 9am - 3pm.
Gift Types
Packaging - all Hampers and Gifts are wrapped securely and carefully packaged in a strong cardboard outer for freight. Where possible for packaging we use wood-wool as it is natural, compostable and biodegradable.
Finishing Touches - so many of our Gift Hampers and Gifts are hand tied with our gorgeous striped grosgrain ribbons. We love the touch and feel of real, soft texture so no poly-prop plastic found here!  Our handmade wax seals are included as a finishing touch and every Gift Hamper is unique due to the handmade nature of each item.
Refrigerated Products - cold products are packaged in Chill-tainers with re-usable gel ice packs.  Please note, we cannot dispatch or cold or fresh products or flowers to Rural delivery addresses.
Substitutions - in the event that a product is unavailable we reserve the right to substitute a product of the same or higher value, and as close to your original item as possible. We pride ourselves on supporting small and local artisan businesses and love including their goods in our Gift Hampers.  As a result, items can become unavailable on occasion and without a lot of notice.  We will not substitute an item unless the quality and aesthetic meet our extremely high design standards.  Props may have been used in some photographs, unless listed it is not included in the Gift Hamper. 
Delivery Information
Courier Providers - we use New Zealand Couriers.  For our same day service we use Speedy Couriers.
Standard Cut Off Times - same day Auckland is 10am. North Island and South Island courier is 1pm.
Despatch - days are Monday - Friday as couriers do not pick up at weekends. No pickup or delivery on NZ Public Holidays. We do not deliver to private bags or post office boxes.
Apartments - couriers regularly have trouble delivering to apartments during the day. Consider a work address as the preferred option.
Hospital Deliveries - please check with the Hospital to confirm the patient hasn't been discharged. Please provide a Ward Number and ensure the correct name is used.
If No-one Is Available To Receive Your Parcel it will be left in a safe place, unless you specify that you want it signed for. The courier will not leave it if he feels it is not safe. A card will be left with instructions to ring so the recipient can arrange a suitable delivery time.
Re-Direction Fee may be charged if the address details given to us are incorrect. You are responsible for giving us the correct delivery address.

Weekends And Public Holidays
Weekend Orders - orders received over the weekend will be processed the following Monday morning.  Orders received on Fridays for fresh or cold products will be dispatched on Monday, unless Saturday delivery is applicable.
Saturday Delivery is available for large towns only. We cannot guarantee that it will be delivered on the Saturday if requested, as we have no control over the Couriers who work those areas. Check the New Zealand Courier website for more information.
Sunday and Public Holidays - there are no deliveries on Sundays or Public Holidays.  Orders for fresh or cold products placed over a Long Weekend will be dispatched the next available Business Day.
Order in Advance - if you specify a certain date for delivery we attach a sticker on the outer carton requesting the recipient "No peeking until the............". This enables us to make sure your Gift Hamper gets there on or just before the specified date, to avoid disappointment.
Bulk Consignment - may be available for corporate orders. Please contact us.

Delivery Times
We can't tell you exactly when a gift will be delivered - we can only give you an approximate timeframe.
Auckland Delivery - 1-2 working days.
Auckland Same Day Urgent Delivery available - North Shore, Albany and Auckland Central. We may be able to deliver same day to the rest of Auckland as far south as Manukau for an additional charge. Please contact us.
North Island Delivery - North Island Delivery takes between 1 - 3 working days.
South Island Delivery - Allow 2 - 3 working days for deliveries to the South Island.
Waiheke Island Delivery - Allow 2 - 3 working days for deliveries to Waiheke Island.
Rural Delivery/Remote (RD) Addresses - incur no extra charge but can take an additional 1-3 working days depending on the Couriers schedule.